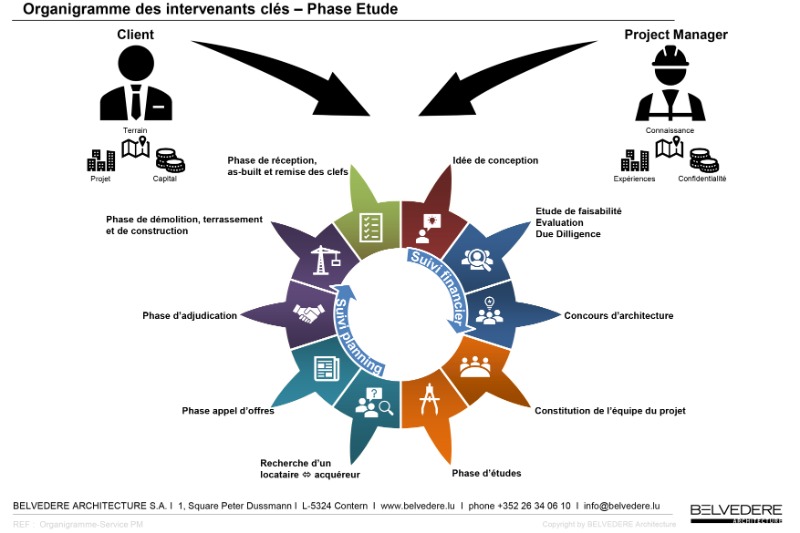 Relevant competence in the management of construction projects.
BELVEDERE Architecture ensures efficient performance in the management and control of schedules, costs and quality.
As the responsible project manager, BELVEDERE Architecture has, for example, accompanied the "Beaubourg" project from the acquisition of the project to its completion in September 2018. The new office building was commissioned by its current user in May 2019. The timely delivery of the project was ensured through deliberately chosen control measures. In order to optimise the cooperation of the project team in the realisation of the new office building and to limit construction time and costs, BELVEDERE Architecture proposed the "BAUTEAM" cooperation model. BELVEDERE Architecture's involvement as project manager ensured smooth communication and quick decisions. This factor, together with the mutual trust of the Bauteam members and the rapid start of construction, contributed to the success of the project.
The media are talking about it
> Revue Technique Luxembourgeoise, edition 04/2019
Download (pdf) > (Article only available in German)
Information on the "Beaubourg" project >
BELVEDERE Architecture has also been working as a project manager and assistant to the client on the construction of the "SHOW" building. The office building in Howald, built by SOLUDEC and designed by M3 Architects, is a remarkable project. It has been delivered in March 2021.
> Drone video (©Julien ROY 10/2020, Project Manager at BELVEDERE Architecture)
Download (youtube) >
All articles