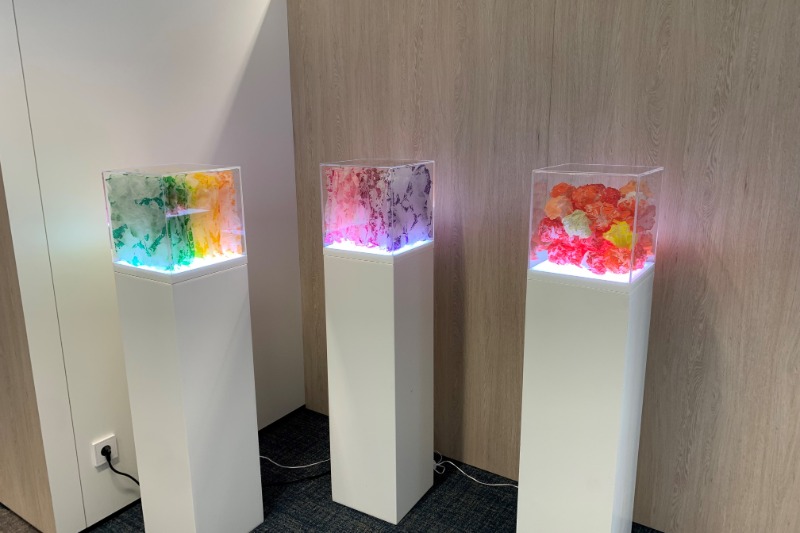 Artwork of Patrick Meyer on display at GSK Stockmann.
GSK Stockmann has been opening its doors to showcase work by the Luxembourgish art collective SIXTHFLOOR, of which Patrick Meyer is founding member, under the title Track 04. The exhibition runs until 22 October 2021.
Track 04 is the fourth exhibition in the Luxembourg office of GSK Stockmann – presenting the SIXTHFLOOR, a Luxembourg art collective created by six artist friends back in 2001. The current SIXTHFLOOR members Lukas Arons, Nadine Cloos, Tom Flick, Katarzyna Kot-Bach, Patrick Meyer, Joachim van der Vlugt and Wouter van der Vlugt are working with materials such as clay, wood, stone, bronze, plaster, aluminium, acrylic and oil paint. Patrick, working as an architect in his professional life, shows some of his "flatvolumes" within Track 04: Artpieces crafted from lime paper and acrylic paint. Also, two of his stone sculptures can be seen.
Context
Belvedere Architecture has created and realised an exceptional interior design for the offices of GSK Stockmann in the Axento building in Luxembourg-Kirchberg in 2019/2020. The successful partnership between Patrick Meyer, CEO of Belvedere Architecture and artist of the SIXTHFLOOR collective, and GSK Stockmann led to this further very unique collaboration, the Track 04 exhibition.
Conversion of office space GSK Stockmann Luxembourg - Belvedere Architecture
patrick-meyer
https://www.gsk-lux.com/en/event/art-exhibition-track-04-presenting-the-sixthfloor/...
All articles